What makes a floating home such a good idea? That's actually more than one question, with more than one answer. Because owning a floating home is a good idea, and when you look more closely you'll see that how a floating home is made is a process full of good ideas. We have homes for sale in Upton-upon-Severn on a brand new lake development today, so read on to find out more about this alternative way of living.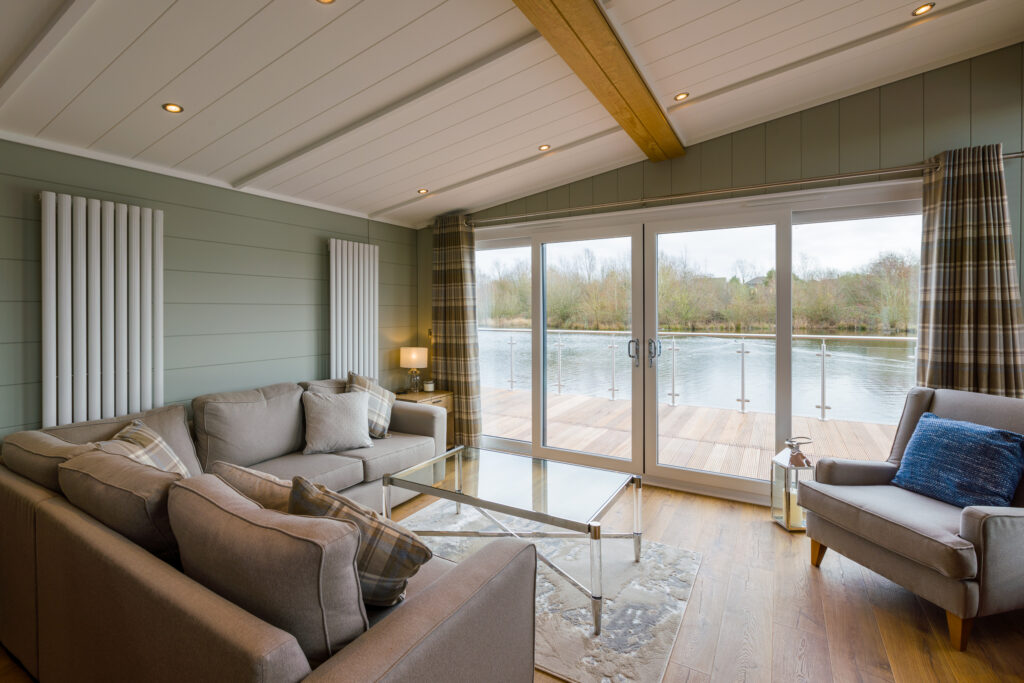 How is a Floating Home made?
Like all high quality manufacturing processes, the making of a floating home starts with the design. Because a floating home is exactly what it says – it is a home that floats. The very best ones draw on input and collaboration from experts in the marine and park home sectors.
Key to the design of a floating house is the framework. Hot dipped galvanised steel is used to produce the frame which, together with floats, keeps the structure afloat. The carefully crafted, almost bespoke, floatation units are locked together with the framework and the whole assembly sits below the water. Think of them as the foundations.
So is a Floating Home truly a house?
A floating house really is the same as a house…but it floats. The lodges at Upton Lake are single storey, so maybe they're more like a floating bungalow. But the important thing is, they are a home. They are designed and constructed to be your home. You could have a floating office, or a floating holiday home if you like. But the ideas that drive the design and manufacture are rooted in making them a home.
There's plenty of living space in the open plan lounge. You have a kitchen, and two bedrooms. You're linked to utilities and Wi-Fi. You're living the dream.

If a floating home floats your boat, the chances are you like to get outside into the air. No problem there, because a Waterfront Living floating home has decking. Made from carefully selected hardwood and finished with aluminium bearers and glass balustrades, the decking looks great and adds so much to your waterfront living lifestyle.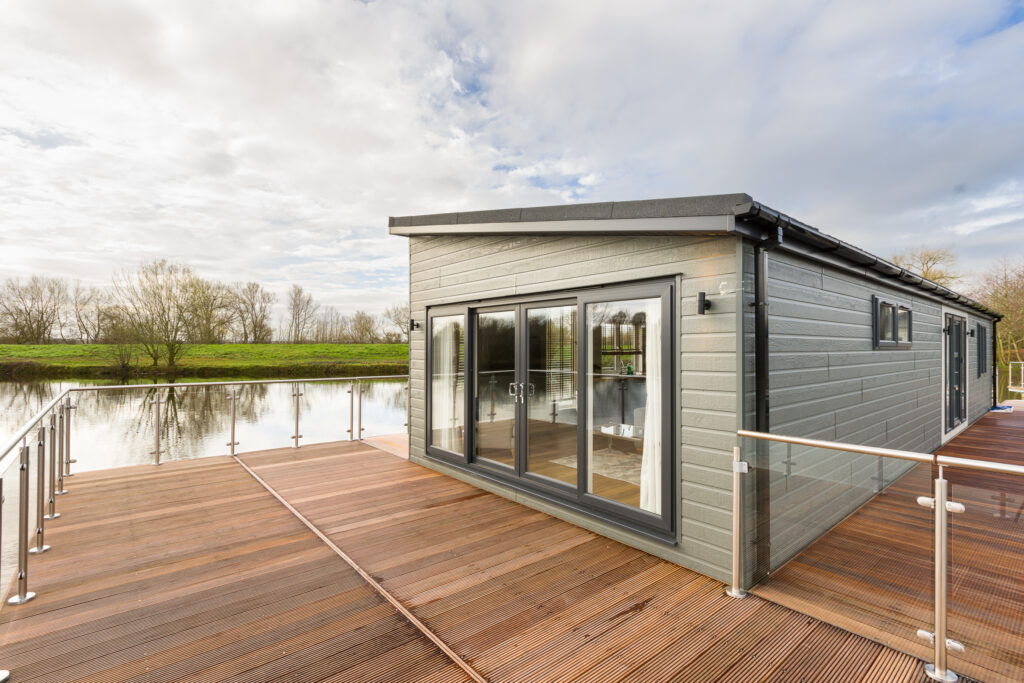 Can you furnish a Floating Home like you'd furnish a house?
You can furnish the lodges, but in reality it's more about adding the finishing touches. Or personalising it. Because a floating home at Upton Lake comes with a fully fitted kitchen, a bathroom and there's a fixtures and fitting and furnishing package included in the price. Why wouldn't you let experts design your interior furnishings for your home? It makes so much sense. And on that point, where better to exercise your creativity than styling your waterfront living with accessories and touches that reflect your home and the area around it?
Is the manufacture, or building protected like a house?
Yes again. Waterfront Living floating homes, which we currently have for sale at Upton Lake, come with a warranty on the home and a separate warranty from the manufacturer of the floatation sections.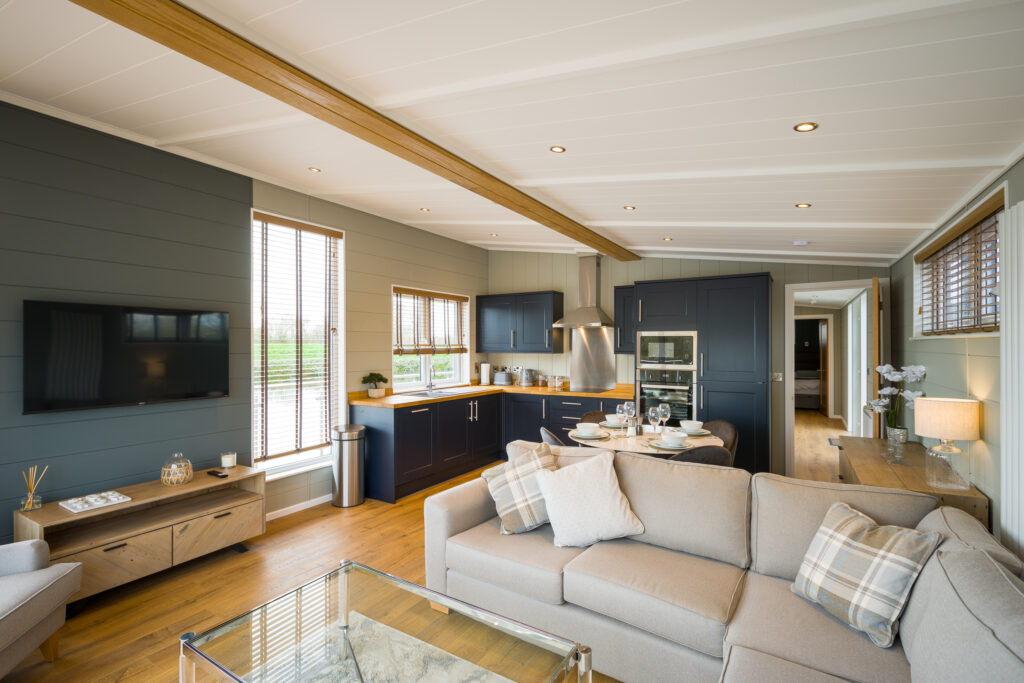 A Floating Home is beginning to sound like a dream Property
Of course it does. Because apart from all the good ideas involved in the manufacture of a floating home, a house on the water is a good idea in itself. It's a great place to live, with outstanding design and high quality materials and construction. A floating home on Upton Lake is a real investment in, and a serious step towards, a different lifestyle. Giving you all the benefits of living on the water, with none of the restrictions that can come with living on a boat. It's a real opportunity to have your dream home, in a dream location.
Dream home. Dream location. What about property value?
Even a luxury floating home can be a less expensive option compared to a traditional house in some cases. And yes, these homes can appreciate in value. The quality of the design, materials and construction are important, as they are with everything. Market trends seem to indicate that a floating house can take a bit longer to sell than a traditional house. Although it seems that once someone has bought a floating home it seems they tend not to part with it. Why would they want to?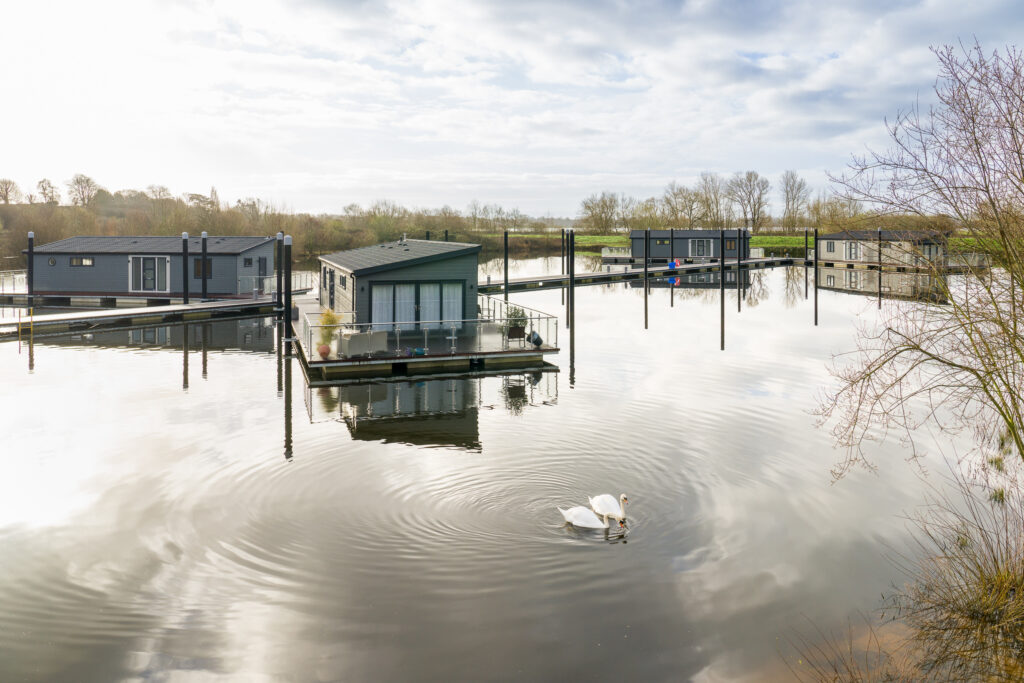 Floating homes at Upton Lake – by Waterfront Living
For all that's best in the design and manufacture of these homes, as well as a great location, it's definitely worth looking at Waterfront Living at Upton Lake. With all the experience and knowledge of the Tingdene Group to draw on, this outstanding concept brings together that combination of marine and park life, as well as the perfect blend of cutting edge technology and calm, quiet, living.
They're saying that a floating home is becoming the new 'des res' (that's desirable residence to those not in the know). With our changing outlook on life, you can see why. With fabulously designed and manufactured homes in such a beautiful setting, you can see why these waterside properties are as 'des' as any res…