In a floating home, your dream of living on the water can come true, in so many ways.
If living on a narrow boat or houseboat has ever been something you've thought about, a floating home could be everything you've ever wanted. Because life on the water can be so much easier when it's lived in a home built on the water, rather than on a boat. Let's look at some key questions: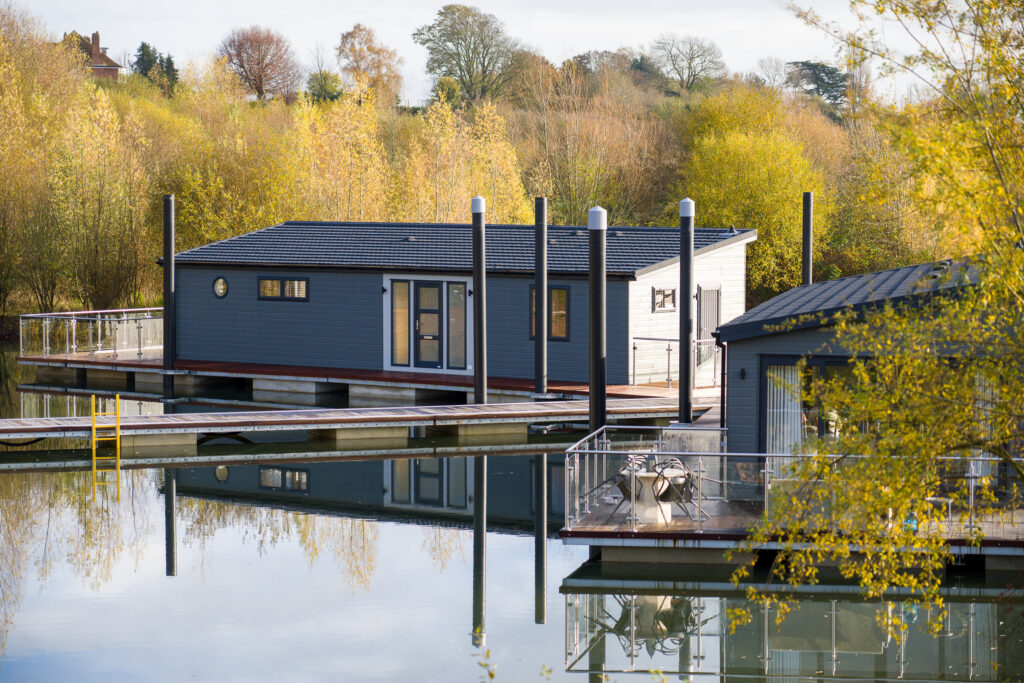 1. What is a Floating Home?
A floating home could technically be a narrow boat or houseboat. But you may be looking for more room and more of a traditional home feel, whilst still enjoying the benefits of blue space and living on the water.
That's why you should consider a floating home with Waterfront Living. It's not a boat and it's not designed to cruise around. It's a home, built on a floating foundation, which means it will rise and fall with the ebb and flow of the water. It's permanently moored, which means you get the feeling and sensation of living on a boat, with all the benefits and convenience of living in a house. It's literally a floating home.
2. Just how convenient is a Floating Home?
A floating home is very convenient, all mod cons convenient. You're connected to the utilities for a start, and in fact Waterfront Living's floating homes are all electric. These properties are beautifully designed for convenient and comfortable living. There's a fully fitted kitchen, dining area and open plan lounge. They also feature a master bedroom with ensuite, plus a second bedroom and a family bathroom.
3. So you really can live in a Floating HOUSE?
You absolutely can live in a floating home. More than that, you can enjoy a different style of living. You can live on the water, but comfortably and with space to relax. It feels easier to chill on your decking rather than a deck (that decking is made from high grade hardwood with a super stylish glass balustrade by the way).
These floating homes are designed, constructed and approved for residential living. You can move in, but you don't have to move around. This is life on the water for your kind of lifestyle. It's your dream, made practical.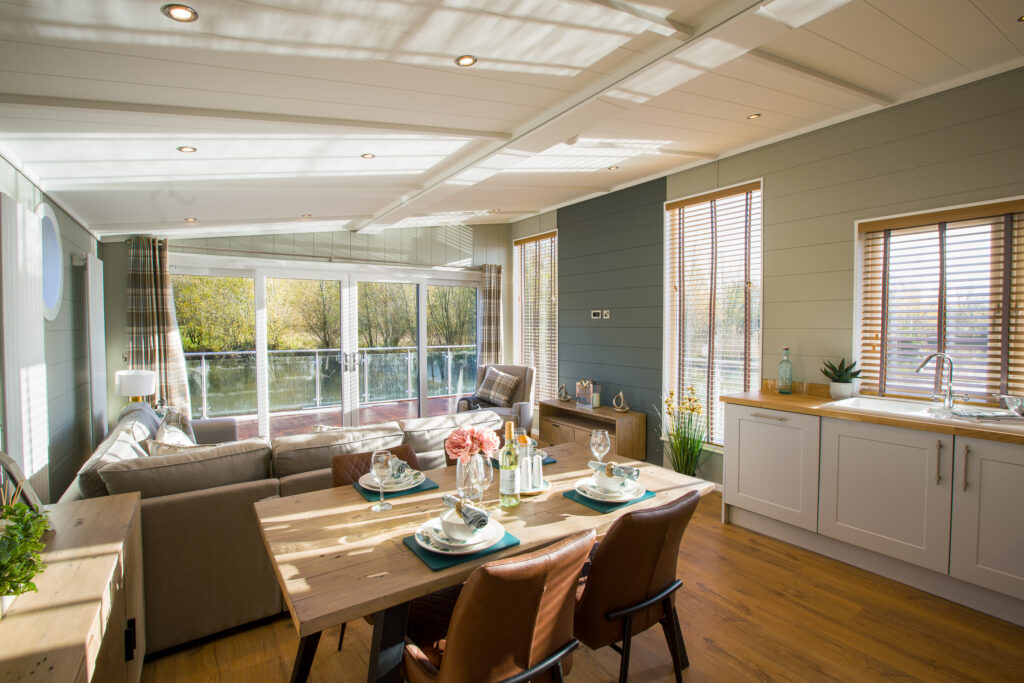 4. Does a Floating Home make financial sense?
Ah. You're thinking that living the dream is incompatible with being financially savvy, that the two don't go together. But they do.
A floating house is an affordable, high quality, residence projecting a good return on your investment. It could be that you're thinking of downsizing from a larger house. You can buy it as your main residence and that could prove profitable. It could also prove more practical than that pipe dream of a narrow boat. Or maybe you're already living in a narrowboat and you want something more stable – in so many ways. Switching to a floating home would keep your lifestyle alive but make the living a lot easier.
You could also consider buying a floating lodge as a getaway home. That really works, and what's more it can make your money work. You could generate extra income from letting if you're not there all the time. Upton Lake currently has some floating homes for guests seeking short stays on Airbnb and Booking.com.
Typically, there are mooring fees, but they would apply to a boat anyway, as you may already know. You may need to check out advice from finance companies. But again – you may do that anyway. And you'll probably find that financing what is in fact a property could be easier than buying a boat.
5. Where is a good location for a Floating Home?
You'd do well to check out Upton Lake in Upton-upon-Severn.
These superb quality floating houses come with the Tingdene touch. With homes available now and ready to move into alongside berths available for new homes, this stunning location is ideal for the fast-growing modern concept of waterside living in a floating home.
You'll be in a glorious part of the country by the River Severn, within easy access of so many wonderful walks, fabulous fooderies and superb shops. It's a cultural hotspot with festivals and venues offering the best in arts and music.
Upton Lake is a beautiful place to be, enjoying plenty of blue and green space and embracing the peace and quiet of the Worcestershire countryside. And it could be said that with the low carbon footprint of a floating home, you'll be helping to keep it a beautiful place to be. Speaking of low carbon footprints, we've recently installed EV charging points in our car parks so you have the option of an all-electric car and an all-electric home.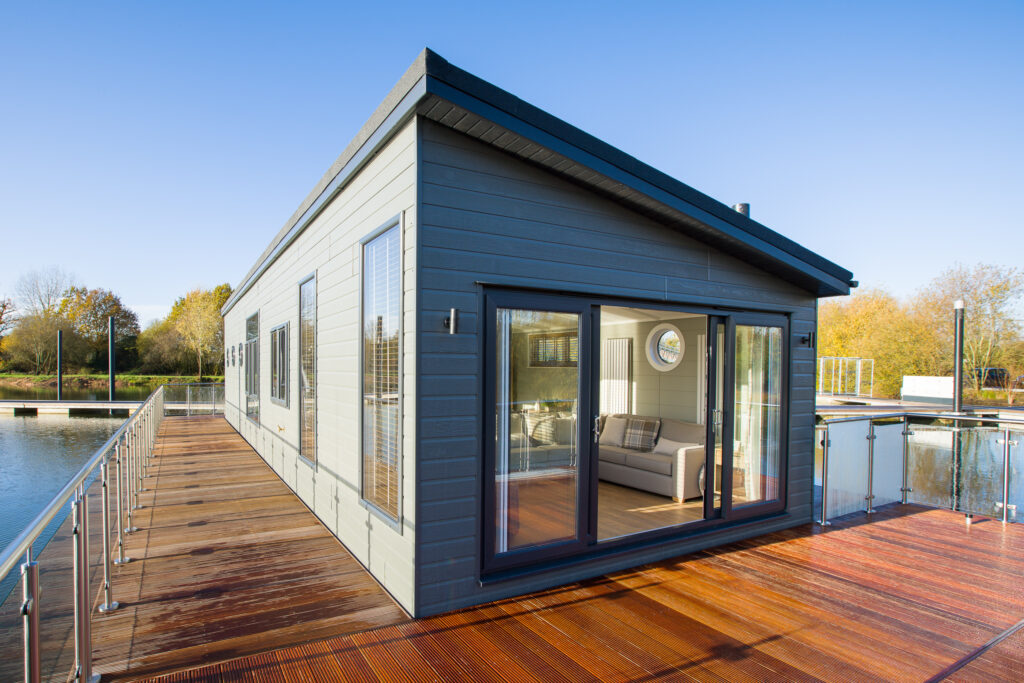 It's time you considered a floating home
A floating home is so much more than a boat. It's such an easy going, gentle, way to live on the water. You can stop worrying about the property ladder and just go with the flow. Except you won't actually go with the flow. You'll be moored. Which is rather the point. Why would you want to move when what you wanted was just to live on the water?