Upton-upon-Severn has all the charm you could want from a quaint English town by the water. With history as a port and the only river crossing for miles, Upton-upon-Severn has been a thriving community for local business for hundreds of years. Check out our favourite restaurants in Upton-upon-Severn below: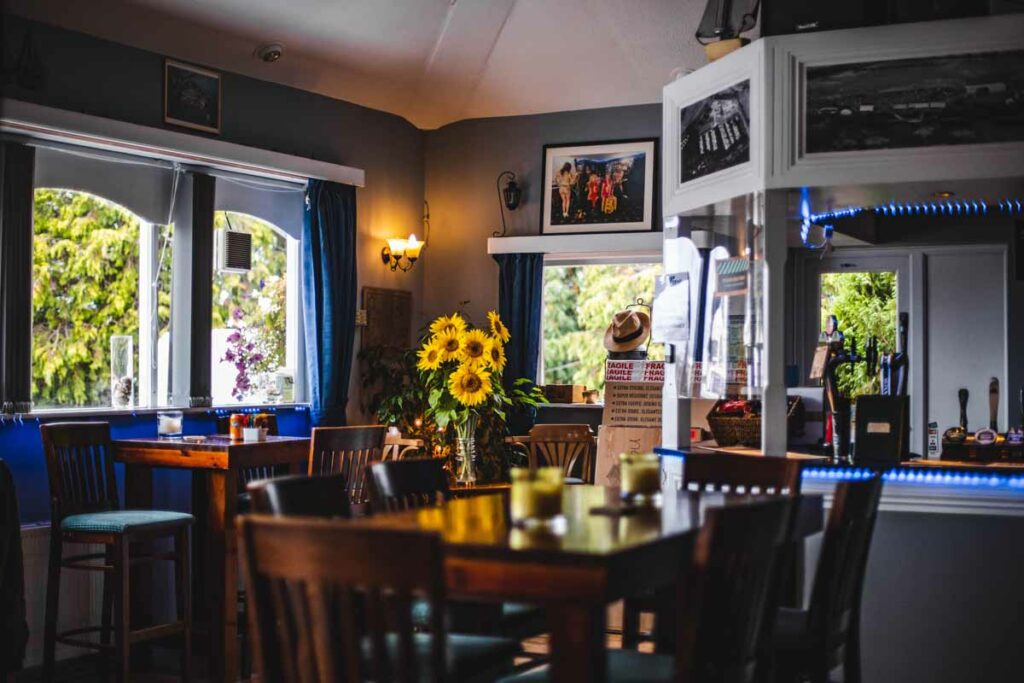 Restaurants in Upton-upon-Severn
Distance from Upton Lake & Marina – 0.5 miles / 10 min walk
Rated #1 restaurant in Upton-upon-Severn on Tripadvisor, Pundit's Fusion serves authentic Bangladeshi cuisine on the high street. It is highly commended for it's delicious food, charming staff and exciting atmosphere.
Situated at Upton Lake & Marina
Of course The Wheelhouse is our favourite restaurant in Upton, as it's within the marina grounds and a favourite lunch spot for our team. Serving simple homemade pub classics and a variety of snacks and drinks, this cosy restaurant with ample outside areas is a perfect place for a pit stop after exploring the River Severn or for a spot of lunch when you're at your floating home.
Distance from Upton Lake & Marina – 0.4 miles / 9 min walk
With parts of the building dating back to the early 17th century, the traditional timber framed pub Ye Old Anchor Inn serves everything from light bites and sandwiches to Sunday lunch and a full evening menu from Monday to Saturday.
Distance from Upton Lake & Marina – 0.5 miles / 11 min walk
Another Upton high street restaurant serving Bangladesh and Indian cuisine, Thrishna is open to eat-in and takeaway with consistently excellent reviews across the board. Expect all the favourite traditional Indian dishes, house specialties and plenty of vegetarian and vegan options.
---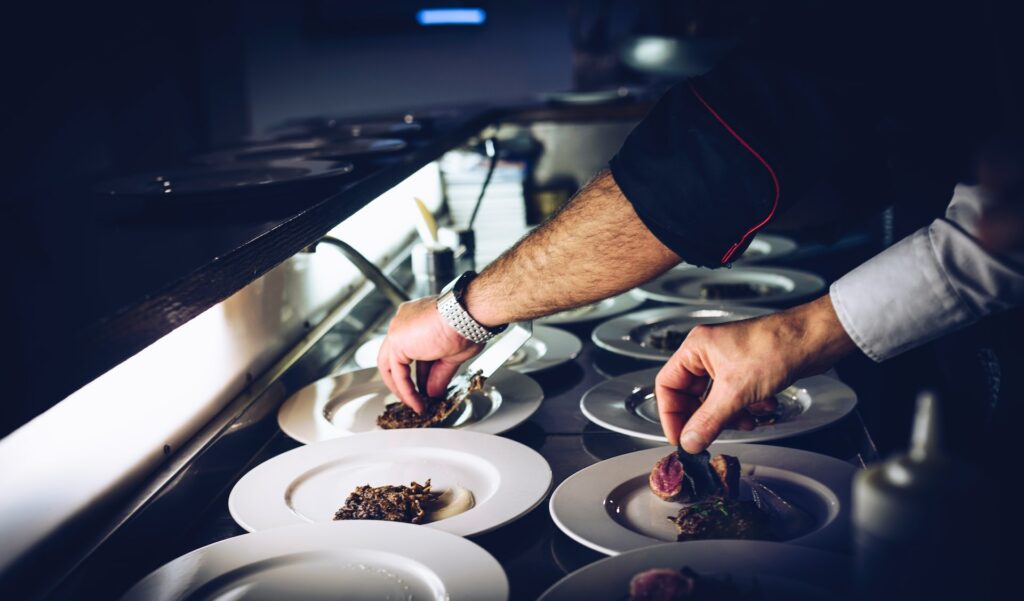 Michelin Rated Restaurants near Upton-upon-Severn
There's also a variety of Michelin restaurants around Upton-upon-Severn, if you're in the mood for something a bit fancier.
What does it mean when a restaurant has a Michelin Star?
The Michelin guide is the most highly recognised restaurant award, with over 2,500 Michelin star restaurants around the world.
The Michelin guide was started in the early 20th century by none other than the Michelin brothers. Yes, the tyre company! The guide coincided with the rise of use in automobiles, encouraging vehicle users to travel around France to restaurants and hotels (and of course mechanics and petrol stations). It was developed with the view that people would inevitably want to buy more tyres the more they travelled.
The first Michelin Star ratings came in 1926 and the ratings expanded to two and three stars in 1931. As of today, the Michelin Guide rates restaurants across the globe. It also includes the Bib Gourmand rating for more moderately priced but equally good food, and the Michelin Plate which highlights a restaurant on its way towards earning a star.
1 Michelin Star
Distance from Upton Lake & Marina – 24.7 miles / 48 min drive

Pensons is a fine dining restaurant on the Netherwood Estate on the Worcestershire/Herefordshire border. It is set amongst a stunning agricultural estate just west of the River Severn. With a five course tasting menu at £110 per head full of homegrown produce, carefully selected grass-fed meat and sustainable UK fish, you'll be sure to have an unforgettable evening here.
Michelin Plate
Distance from Upton Lake & Marina – 23.6 miles / 29 min drive
The Venture In's philosophy ensures "individual elements of our dishes flourish without overpowering the main ingredients." Locally sourced meat and fish is expertly smoked inhouse for their regularly changing menus. The Venture In received AA rosettes and a Michelin Guide feature not long after they opened in the late 90's.
Michelin Plate
Distance from Upton Lake & Marina – 13.2 miles / 25 min drive
3 course dinners, 7 course tasting menus, afternoon teas and Sunday lunch – Eckington Manor has something for everyone. Combining British and European cuisine, their imaginative menus incorporate locally grown produce from their own farm and the local area.
Michelin Plate
Distance from Upton Lake & Marina – 9.6 miles / 17 min drive
Set in a 16th century public house near Gloucester, the Butchers Arms is first and foremost a thriving rural pub. It's low ceilings and wooden floors and a variety of real ales behind the bar make it a local favourite. Regularly featured in the Good Pub and Good Restaurant Guides, as well as the Michelin Guide, the menu at the Butchers Arms features high quality British produce from the best local suppliers.
Bib Gourmand
Distance from Upton Lake & Marina – 3.2 miles / 7 min drive
The Inn at Welland overlooks the Malvern Hills and serves beautiful fine-dining dishes; from traditional duck confit to a variety of vegan and vegetarian option. There's also suggested wine pairings and mocktails across the menu, much of which is sourced from their kitchen garden on-site.
---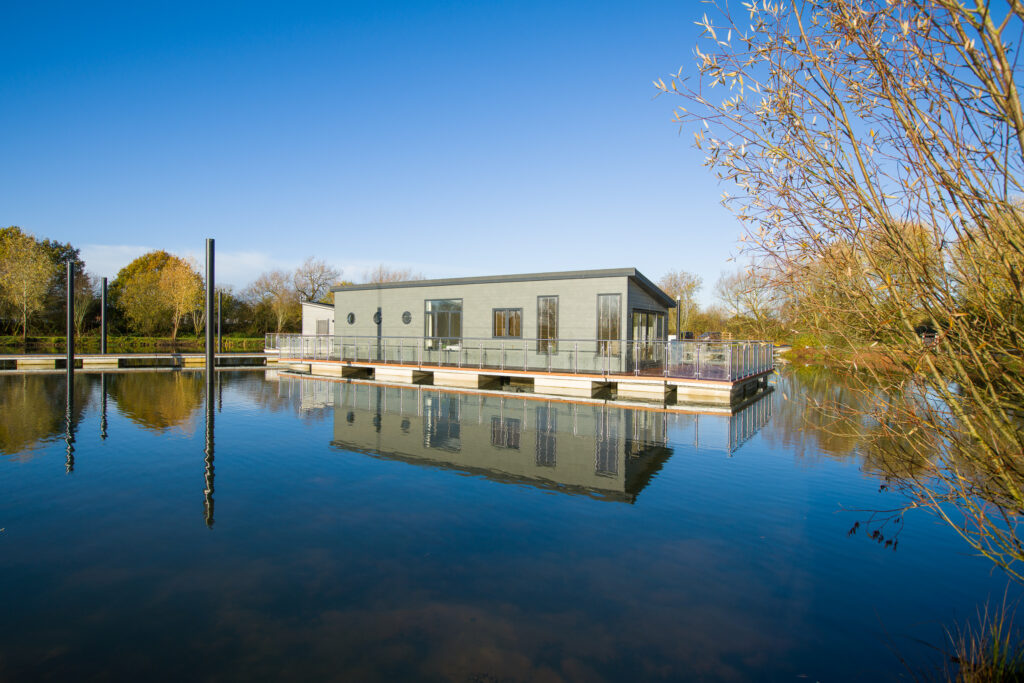 Want to enjoy all of these restaurants in Upton-upon-Severn and beyond? You can do so whenever you like with a floating home at Upton Lake. Situated just a short walk from the high street in Upton-upon-Severn, Upton Lake is a brand new floating home development next to Upton Marina. Taking advantage of blue and green space and framed by the rolling Malvern Hills, these beautifully designed floating homes are ready for their new residents in this exciting new community.