The Floating Home
Available from August 2022, this brand new 2 bedroom and 2 bathroom floating home at Upton Lake and Marina offers modern furnishings and décor, beautiful open plan living space and stunning views over the Marina.
The master bedroom features in-built storage, a spacious double bed and a contemporary en-suite bathroom with shower. The home also has a twin second bedroom with its own wardrobes and storage and a spacious main bathroom with combined bath and shower.
Upton-upon-Severn
Upton Lake and Marina is an iconic destination in Upton-upon-Severn, a thriving community of boating enthusiasts and liveaboards. The marina has plenty to offer for our guests, from boat hire and river excursions with Severn Expeditions to classic pub grub and a well-stocked bar at the Wheelhouse Bar and Restaurant.
Upton Lake and Marina is ideally located and just a short walk away from the historic town of Upton-upon-Severn in Worcestershire. This iconic riverside town once acted as a port filled with crafts carrying goods. Today, the rivers are bustling with cruisers and narrowboats, enjoying the scenery, history and quiet life that Upton has to offer. Quiet, that is, until summer comes around, where the town attracts music fans from all over for its annual Jazz, Blues, Folk and Sunshine Festivals.
There is plenty to learn about the history of Upton-upon-Severn at both the Tudor House Heritage Centre and the Upton Heritage Centre. Alternatively, take a wander along the quaint high street where you will find a variety of independent shops, restaurants and enjoy the beautiful floral displays created by community volunteers, that gain awards from the RHS Heart of England in Bloom campaign every year.
The Wheelhouse Bar & Restaurant
Boat Hire
On-site and secure parking
Launderette
Wi-Fi*
5 min walk from Upton-upon-Severn
*charges apply
Tewkesbury  12 mins (by car)
Cheltenham  30 mins (by car)
M5  10 mins (by car)
M4  50 mins (by car)
Birmingham Airport  60 mins (by car)
Cotswolds  25 mins (by car)
Bookings
The floating home is available for bookings between Thursdays and Mondays with a minimum of a 3 night stay requirement. Bookings are taken through Airbnb, click here to book.
Try before you buy
If you love the thought of joining a peaceful community set amidst tranquil blue and green and are thinking of purchasing a floating home on Upton Lake, we'd love you to stay with us and give it a go before you decide.
You can book a stay in our 2 bedroom floating home and, very simply, should you proceed to purchase a home on Upton Lake, the final purchase price of your floating home will be reduced by the cost of your holiday stay.
Terms and conditions apply.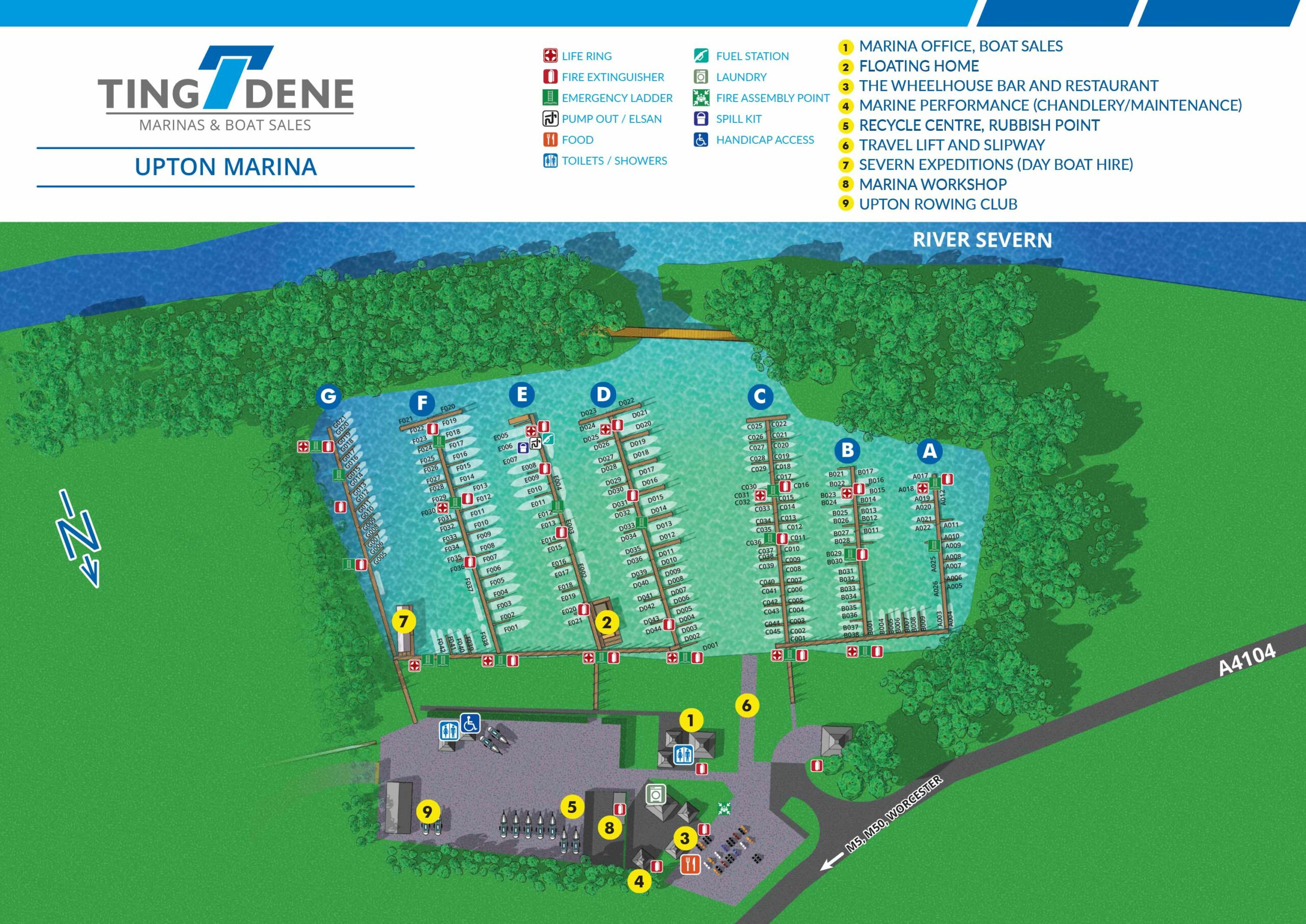 Floating Home Virtual Tour