2 BEDROOMS I 2 BATHROOMS I 775 SQ FT
Intelligent design, ground-breaking creativity and beautiful craftsmanship.
The perfect trio which make up the foundations of Waterfront Living's floating home, The Grayling.
Begin each day gazing at the sunrise from your bed and steal some valuable you time with a good book and a cup of coffee. Outside, a fabulous decking area gives you the perfect space for a spot of al fresco dining. Or a cosy retreat for a magical evening under the stars.
From the moment you step foot in the smart glazed hallway and glimpse the spacious open plan living space, you'll know this floating home has been designed with peace and tranquillity in mind.
The full height windows throughout allow natural light to stream through the space and provide beautiful views across the lake and into the surrounding woodland.
Some images and illustrations are for indicative purposes only.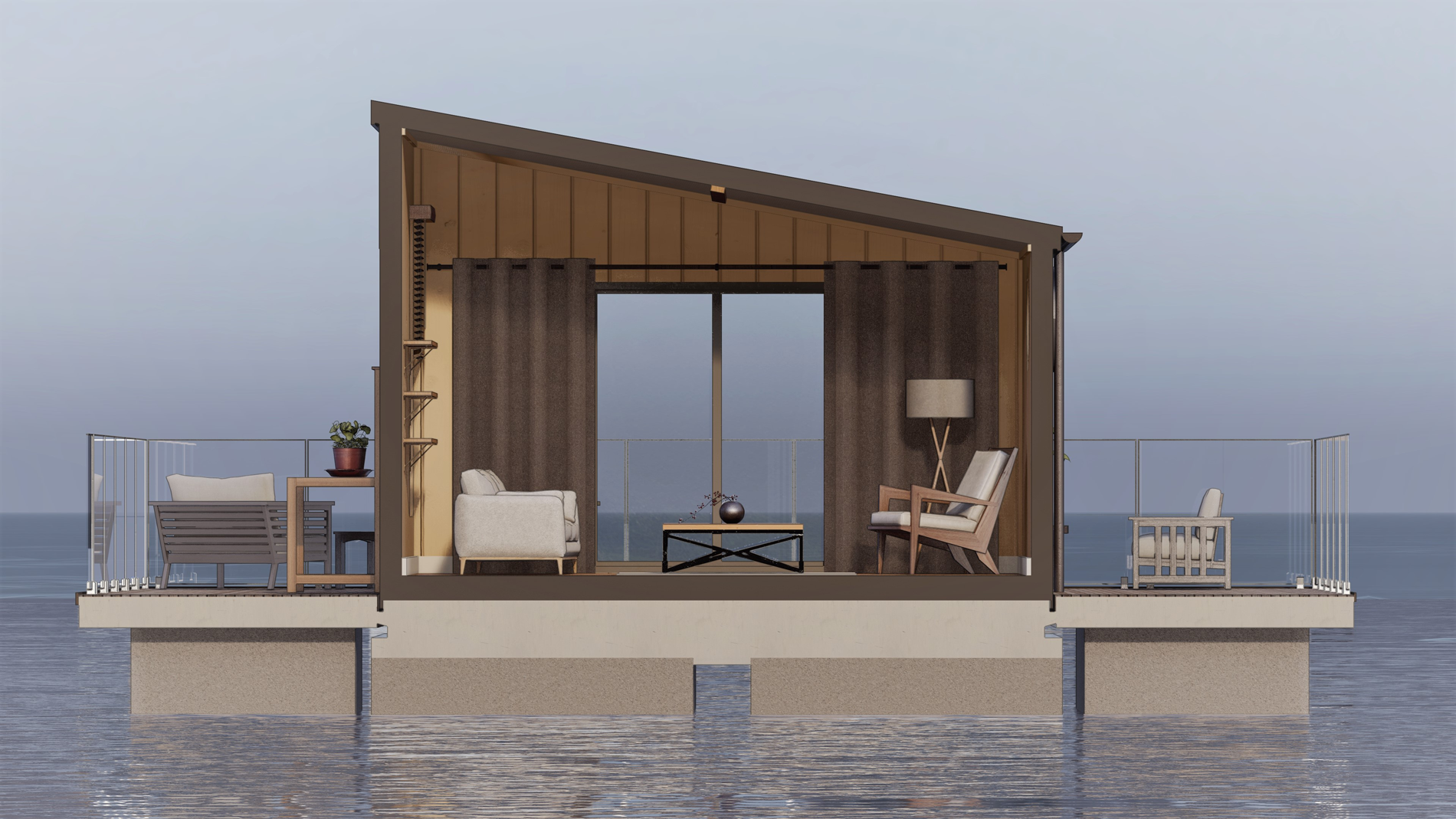 A perfect combination of cutting-edge technology and beautifully designed homes. Waterfront Living's floating homes have been carefully designed in collaboration with some of the best in the marine and park home industries.
The framework
The main framework of the floating structure is made from mild steel which has been hot-dip galvanized. This framework, coupled with the floats, sits underneath the home and below the waterline and is what keeps the home afloat and balanced.
The floats
The floatation units which connect to the framework are formed from EPS70E grade polystyrene blocks. These are coated with a concrete skin which is approximately 25mm thick.
Each of these floats is sized independently and is based on the individual home's weight and layout. Not one float is the same!
The decking
The decking, which can be seen above the waterline, is made from hardwood 145 x 22mm deck boards which are supported on extruded aluminium bearers.
The glass balustrade is then connected and runs around the perimeter of the decking.